Greenhouse control systems offer a unique and robust set of tools that are critical for the successful management and upkeep of greenhouse growing operations.
For growers looking to amplify their control systems in order to gain more control and optimize their growing environments, implementing thoughtfully crafted control specifications is the solution.
In our e-book, Developing a Greenhouse Control Specification, we discuss not only the importance of greenhouse control specifications, but also the exact requirements needed for implementing them in your growing operation.
In this e-book, we discuss: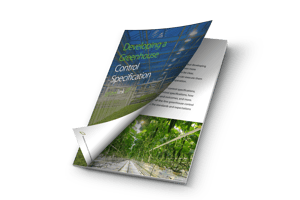 Key differences between conventional building controls and greenhouse controls
What a top-of-the-line greenhouse control system is capable of
The importance of following current industry best practices
How to determine your operation's specific needs
What features to consider while picking a control system solution
Get the e-book by filling out the form today »